Setting up and connecting to a hotspot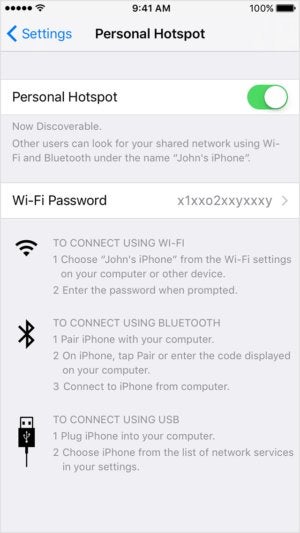 Before you begin, you'll need to make sure your cellular service plan supports the wireless hotspot feature. If it doesn't, check with your carrier for plan pricing and availability. Also, you'll need to make sure your iPhone or iPad has mobile data switched on.
Open the Settings app and tap Personal Hotspot (it's listed as Cellular Data on the iPad). Then, on the next screen, tap the Personal Hotspot switch so it's in the "on" position (the switch will turn green). Next, make a note of your Wi-Fi password listed on this screen. If you don't have Wi-Fi enabled on your iPhone or iPad, you'll be asked to switch it on at this point.
Now, go to your Mac or PC, pop open the Wi-Fi network menu, then select your iOS device's name and enter the password as you would normally do when you connect to a Wi-Fi network.
Lastly, keep in mind that any data you use will most likely count against your plan's data cap, so you'll want to avoid downloading massive files while on the hotspot
When you're done, go back to Settings > Personal Hotspot (or Settings > Cellular Data > Personal Hotspot) and switch off the hotspot.